CP SERIES KIT
As described above this kit simply replaces the existing linkage, utilises existing choke and throttle cables and fits to existing throttle spindle ends.
It is however advisable to examine butterfly spindles for wear. If worn, new spindles are available from ourselves with or without spindle ends.
Alternatively reconditioned manifold sets are available on an exchange basis.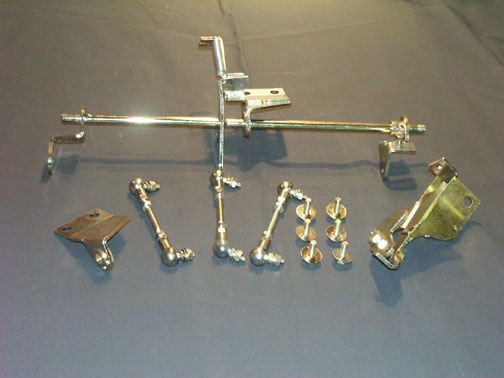 Throttle linkage kit.
LINKAGE COMPLETE (every part required for CP)
CP SERIES SPINDLES (only required if spindle worn)
CR/ modified to CP SERIES SPINDLES (3 required to convert to CP)
CR SERIES KIT
Fits as CP series kit, however with this kit the throttle spindles and spindle ends are renewed with type normally fitted to rear only manifold. This is particularly beneficial as it allows return springs to be fitted to each spindle and eliminates problems associated with spindle wear.
The fitting of new spindles and spindle ends now enables each spindle to be operated and adjusted independently as described in the general description thus alleviating all the problems associated with the CR manifold and linkage.
Converted manifolds are available from ourselves on a service exchange basis.
For further information contact:
Carl Fitchett at TR Trader
Landline: + 44 (0)161 485 5005
Mobile: + 44 (0)7831 826877